Accelerate growth
Acceltech helps leading retailers develop the entire value chain and thrive in today's dynamic environment.
For many retailers, the central question is: How should we respond to, and make use of, the shift in retail, with digital investments becoming increasingly critical to meeting consumers needs and fending off competition?
In what ways should we develop our ecommerce and omni-channel retail business over the next few years?
What can we do to improve online performance and grow with profitability?
How do we accelerate digital development and manage the digital landscape and organization?
We work on every element, from a compelling design of an omni-channel retail customer meeting through to a clear fulfillment and returns strategy, to ensure a comprehensive, customer centric solution that boosts both growth and profit.
Our team consists of experienced industry professionals, working hands-on with your management teams and boards to provide company specific solutions to the challenges at hand. We provide retail market insights and a hands-on Retail Playbook for business and leadership development, based on more than 100 years of collective operational experience in the retail and tech industry.
Our experience includes adaptable methods such as:
A customer centric process, to focus your development efforts right and maximize value in every step
Proven leadership methods, to manage change and deliver business results
Best practices, to accelerate digital development and manage the digital landscape and organization
How can we help you? Our four focus areas address challenges common to retailers and consumer brands, when developing an adaptable retail business that is more responsive to customer needs than ever before.
Meeting the customer
Order fulfillment
Returns
Accelerate digital development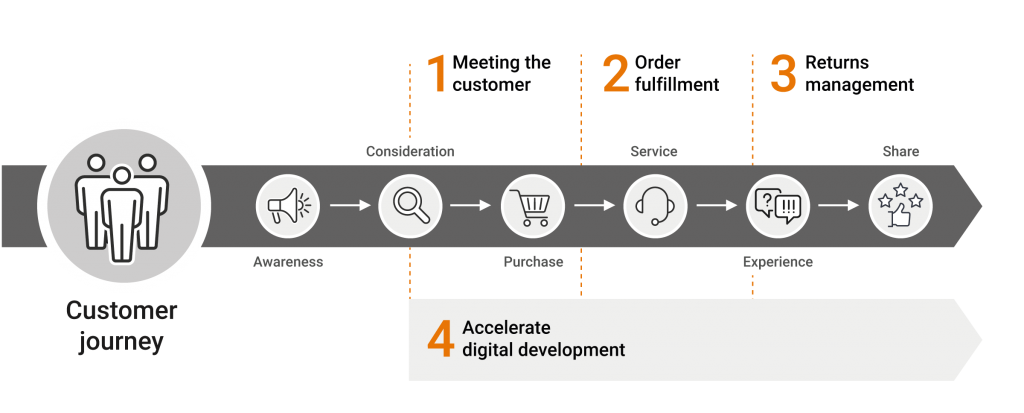 Example of services
1. MEETING THE CUSTOMER
eCommerce performance development
In-store analytics and optimization
Omnichannel checkout and optimization
2. ORDER FULFILLMENT
Order management (orchestration and optimization)
Supply chain network design (omni-channel)
Value based supply chain dashboard
3. RETURNS MANAGEMENT
Returns reduction (analytics and insight)
Digitalize returns process
Returns management – managed service, optimization, and reduction
4. ACCELERATE DIGITAL DELIVERY
Digital transformation (process and governance optimization)
Agile operating model
Agile leadership